As a Chamber of Commerce, economic development is our highest priority, as we look to grow and diversify our business base.
Strategically vital to international trade and commerce in our state, Federal Way is the 5th largest city in King County and 11th largest in the State.   The Chamber's regional scope also includes Pierce County, the State's second largest labor market behind King County.
It's no secret that location is a key factor to business success. Our strategic position between two working ports in the business-centric cities of Seattle and Tacoma, Federal Way businesses have logistical access that keeps them connected to customers across the state, the county and even the globe.
Federal Way Median Home Value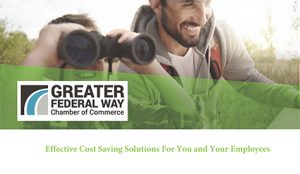 With the ongoing state of current affairs, reducing costs is paramount. One of
the ways you can save is by reducing the monthly cost you and your employees pay for benefits…
Supported in part by the state of Washington.