As a voice of business along the Seattle-Tacoma business Corridor, the Greater Federal Way Chamber represents 480+ businesses, employing an estimated 25,000 workers in the South Sound region.
Can you imagine a place where jobs are plentiful, education is high, transportation is accessible, and everything around you seems rich with opportunity? The Greater Federal Way Chamber of Commerce can. It doesn't happen by accident. Working together with our partners, stakeholders, and elected officials, your Chamber connects you to issues that can make a difference in your future and the success of our community.
The Chamber believes a mix of industries creates a dynamic business environment for the region and we work on behalf of members to create a prosperous economy in the South Sound region. To support that work, advocacy at the Chamber is focused on transportation, education and workforce, business climate, and global competitiveness, as outlined in our Legislative Priorities.
Prosperity Project:
Visioning for Inclusive Economic Growth

The Greater Federal Way Chamber has launched Prosperity Project, a visioning effort that builds upon the data collected as part of the Chamber's economic development work.
"The Chamber believes data-driven strategies create sustainable business growth, particularly as Federal Way develops its downtown core as the urban center of the Seattle-Tacoma business corridors," said Martin. "Our Prosperity Project adds business visioning to that data as our community looks to support and promote inclusive economic development in our area."
The Chamber has contracted Ernst & Young (EY) to assist in an economic visioning effort. The main goal of the Prosperity Project's visioning effort is to understand the current economic conditions of the Federal Way region through business input and economic research. "The Chamber will be working with the EY team to identify high-priority issues and diverse, regionally-connected opportunities for economic growth," said Martin.
"EY's economic development practice will assist the business leaders at the Chamber by sharing strategies and tools that contribute to vibrant, innovative economies," said Tony DeLisi, EY senior manager/director of strategy. "Our team is excited to bring its extensive experience in economic development to work with the Federal Way Chamber in developing a shared vision of economic success and potential strategic pathways to prosperity."
"The Chamber has established an economic baseline with local and state-focused industry sectors and we continue to monitor a range of data with economic dashboards," said Martin.  "Now, it is the time for us to look to our shared future, focusing on economic prosperity and the best ways to create wealth in our business community."
Underway in January, the visioning work of Project Prosperity will take six months to complete. During the visioning process, EY will engage the business community through focus groups and interviews with stakeholders as identified by the Chamber. EY also will be working with the Chamber on supplemental research to define Federal Way's competitive position for business attraction.
According to Martin, the EY sessions will result in a series of narratives that describe the critical economic development themes in greater Federal Way. "The Prosperity Project will provide context to both issues and opportunities facing our businesses," she said. "In this way we will have a more thorough understanding of the City's competitive position in critical topic areas."
"The Prosperity Project and other economic initiatives are made possible with support of our District 30 legislators, our Pivotal Partners, and, of course, our members—the heartbeat of the Chamber network," she said. "Honestly, we're pretty excited to offer our business community the opportunity to provide input on the region's priorities, helping to shape a strategy for the future of our economy and creating prosperity in greater Federal Way."
EY is a global leader in providing advisory services to public and private sector clients focused on evidence-based results. The Federal Way Chamber is an economic development focused membership organization serving the south Puget Sound region.
Housing Action Plan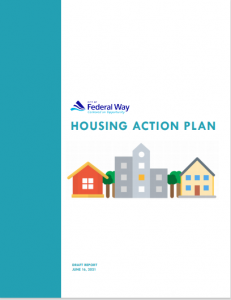 The City of Federal Way is developing a Housing Action Plan (HAP) in order to aid in the provision for all people to have a safe place to live that is attainable and meets the diverse housing needs of individuals and families of all income levels. The plan will identify housing needs within the city, provide objectives and policies to meet these needs, and outline strategies designed to meet the identified objectives. Some of the strategies will include the examination of existing regulations and current Comprehensive Plan policies that guide housing development in Federal Way.
The Draft Housing Action Plan is now available for public review ( see attached). For more information, visit the city at https://www.cityoffederalway.com/page/city-federal-way-housing-action-plan
Coronavirus
The Chamber is monitoring the development of the coronavirus, COVID-19. As a resource for our network, the Chamber wants to make sure our businesses have access to information on the situation and its impact on our businesses.