As a voice of business along the Seattle-Tacoma business Corridor, the Greater Federal Way Chamber represents 480+ businesses, employing an estimated 25,000 workers in the South Sound region.
Can you imagine a place where jobs are plentiful, education is high, transportation is accessible, and everything around you seems rich with opportunity? The Greater Federal Way Chamber of Commerce can. It doesn't happen by accident. Working together with our partners, stakeholders, and elected officials, your Chamber connects you to issues that can make a difference in your future and the success of our community.
The Chamber believes a mix of industries creates a dynamic business environment for the region and we work on behalf of members to create a prosperous economy in the South Sound region. To support that work, advocacy at the Chamber is focused on transportation, education and workforce, business climate, and global competitiveness, as outlined in our Legislative Priorities.
Housing Action Plan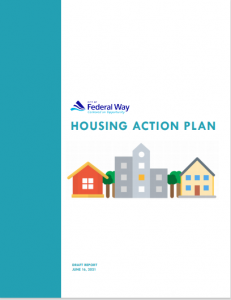 The City of Federal Way is developing a Housing Action Plan (HAP) in order to aid in the provision for all people to have a safe place to live that is attainable and meets the diverse housing needs of individuals and families of all income levels. The plan will identify housing needs within the city, provide objectives and policies to meet these needs, and outline strategies designed to meet the identified objectives. Some of the strategies will include the examination of existing regulations and current Comprehensive Plan policies that guide housing development in Federal Way.
The Draft Housing Action Plan is now available for public review ( see attached). For more information, visit the city at https://www.cityoffederalway.com/page/city-federal-way-housing-action-plan
Coronavirus
The Chamber is monitoring the development of the coronavirus, COVID-19. As a resource for our network, the Chamber wants to make sure our businesses have access to information on the situation and its impact on our businesses.
Childcare is a Workforce Issue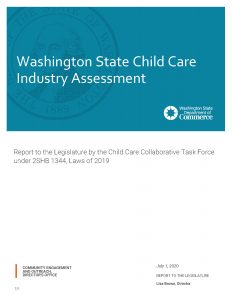 The Federal Way Chamber recognizes that Childcare is a critical workforce issue as well as a growth industry for our area. Before the pandemic, over half a million children in Washington did not have access to licensed child care, and nearly one in five parents surveyed turned down a job offer or promotion due to child care issues, according to a detailed Child Care Industry Assessment Report (see sidebar) released by the Department of Commerce.
"Child care access and affordability are significant challenges, affecting parents' job prospects, productivity and career decisions, with the impact even greater for Black and Native American parents," said Commerce Director Lisa Brown. "Clearly, a dramatic investment in child care is needed for robust, equitable economic recovery in Washington state."  WA Child Care Collaborative Task Force has additional information.