As a resource for our network, the Chamber wants to make sure our members have access to information on the coronavirus (COVID-19) and its impact on our businesses. In addition to the resources below, the Chamber will share updates from community partners on our Facebook and Twitter. Together, we're working to get you information as we Take The Federal Way to business success.
Economic Recovery
US Congress has approved $350 billion in emergency loans for small businesses to help them keep workers employed. In fact, if small businesses maintain or later restore their payrolls, they may not have to repay some of the loan. Here's a guide and checklist from the U.S. Chamber of Commerce to help your small business through the process.
The U.S. Small Business Administration is offering low-interest federal disaster loans for working capital to Washington small businesses suffering substantial economic injury as a result of the Coronavirus (COVID-19). DETAILS on applications below.
Washington Employment Security has programs to help businesses and workers affected by COVID-19 with a series of emergency rules to relieve the burden of temporary layoffs, isolation and quarantine for individuals and employers.
The Coronavirus (COVID-19) Pandemic: Eligible Emergency Protective Measures Fact Sheet, which provides guidance on the types of emergency protective measures that may be eligible under FEMA's Public Assistance Program in accordance with the COVID-19 Emergency Declaration in order to ensure that resource constraints do not inhibit efforts to respond to this unprecedented disaster.
Business Resources
At this time (3/13/20), childcares and early learning programs may remain open and are not affected by the Governor's order to close schools in King, Pierce, and Snohomish counties, March 17-April 24. King County Public Health offers Guidance for Childcares.
King County Public Health has issued guidance for Retail Business and Service Operators.  Venues such as grocery stores, drug stores, movie theaters, restaurants, and other retail establishments may and should stay open, as long as they follow guidance aimed at maximizing excellent hygiene, social distancing, and cleaning.
Public Health Orders issued on March 11. In addition to Governor Jay Inslee's Proclamation that prohibits large gatherings of more than 250 people, Public Health—Seattle & King County is also issuing a Health Officer order to minimize the health impacts of COVID-19.
An actionable resiliency plan could mean the difference between business continuity under adverse conditions and business closure. The Small Business Development Center offers a downloadable copy of its Business Resiliency Guide and Business Resiliency Plan, which can be customized by small business owners to meet their specific needs.
The Occupational Safety and Health Administration (OSHA) developed this COVID-19 planning guidance based on traditional infection prevention and industrial hygiene practices. It focuses on the need for employers to implement engineering, administrative, and work practice controls and personal protective equipment (PPE), as well as considerations for doing so.
The Centers for Disease Control and Prevention (CDC) offers Interim Guidance for Businesses and Employers to plan and respond to COVID-19. This guide is based on what is currently known about the coronavirus virus and the CDC will update this interim guidance as needed and as additional information becomes available. CDC has maritime and airline industry guidelines.
The Washington State Department of Health offers Workplace and Employer Resources & Recommendations to lower the impact of COVID-10 in the workplace by reducing transmission among staff, protecting people who are at higher risk for adverse health complications, maintaining business operations, minimizing effects on other entities in the supply chains, and more.
The Washington Department of Commerce at the request of the Washington State Office of the Insurance Commissioner shares the notice that to be covered against any business losses due to a communicable disease, such as COVID-19, you would need to have purchased an additional endorsement to your policy.  Information about how different types of insurance coverage may be affected by coronavirus in Washington state here.
King County offers a Planning Guide for Businesses and Organizations for COVID-19. The County also has an anti-stigma toolkit with social media tools, a poster, infographic, and other information to help you prevent, interrupt, and respond to stigma.
The Governor's Office has compiled a partial list of resources to support economic retention and recovery related to the coronavirus. Financial, export and employer and worker assistance is included in the Resource List for Washington State Businesses and Workers impacted by COVID-19. Public Health Orders and Proclamation issued on March 11.
Stay Healthy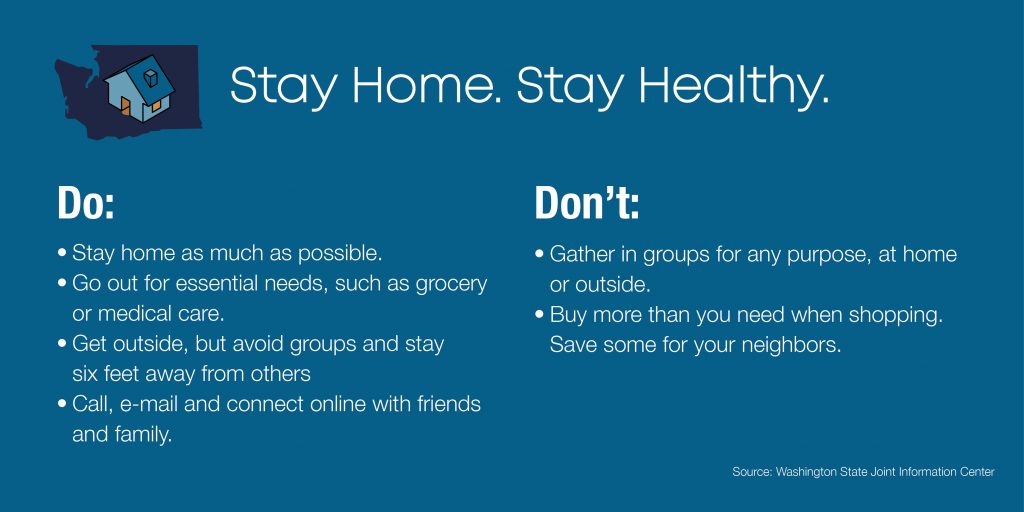 Lakehaven Water & Sewer District maintains a chlorine residual in its water system at all times to prevent the spread of viruses in the water. More on Coronavirus and Drinking Water and Wastewater.
Public Health – Seattle & King County is taking proactive steps to protect the health of our community by making Recommendations to Slow the Spread of the Coronavirus (COVID-19) in our community and reduce the number of people infected. Information is changing frequently. Check and subscribe to Public Health's website (kingcounty.gov/COVID) or blog (publichealthinsider.com).
COVID-19 has caused many nonprofits to shift their focus to emergency planning for an infectious disease. Nonprofit Risk Management Center wants to remind organizations that you may already have plans in place to help mitigate the risk of a public health crisis. Now is a good time to re-visit contingency plans and start training staff on how to handle a crisis.